The 11 Days Exploring Uganda Wildlife Tour starts and ends in Uganda. Inquire Now This tour will take you to the most fantastic national parks, these parks include Lake Mburo National Park, Bwindi Impenetrable National Park for gorilla trekking, Queen Elizabeth National Park for game drives and the boat safaris, visit Murchison Falls National Park to enjoy the wildlife and the water falls, visit Kibale National park for chimp tracking, tour the source of the Nile and many more attractions.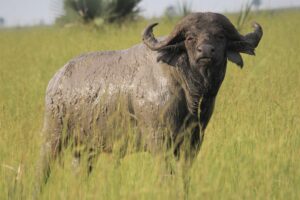 Day 1: Pick up from Entebbe Airport
Upon your arrival at the airport, a Belle Africa Tours guide will meet you and you will be taken to your booked lodge in Kampala and relax for the rest of the day, as you prepare to start your safari the next day. You can opt for a small city tour depending on the time of arrival.
Day 2: Transfer to Lake Mburo National Park
After breakfast, transfer to Lake Mburo National Park (3 Hours' drive) with a stop at the equator for photographs. Expect en route game viewing with animals such as Zebra, Impala, and Eland and other Savannah species and birds like African Fin foot, Papyrus, Bush Shrike, and so on. After lunch, take an afternoon Boat trip on Lake Mburo to see hippos, crocodiles, buffaloes, and variety of bird species including the rare shoebill.
Day 3: Lake Mburo – Bwindi Impenetrable Forest
Wake up early for morning game drive to catch up with early raisers and predators returning to the hide outs, return to the lodge for full breakfast and proceed to Bwindi Impenetrable National park with enroute game viewing. The journey goes through beautiful views of Kigezi Hills, "the Switzerland of Africa", have picnic lunch enrote and relax in the evening as we wait for dinner.
Day 4: Gorilla Tracking Adventure
Have breakfast to transfer to the park headquarters (with packed lunch and water) for briefing before setting off to the forest in search for gorillas. Time taken searching for these humble giant apes is unpredictable. However, it ranges between 2-8 hours depending on their movement. The activity goes through steep rocks climbing up and down making it tiresome. However, the thrill of encountering these giant primates erases the poor memories you went through in trying to find them.
Day 5: Transfer to Queen Elizabeth National Park
Have breakfast early morning and depart for Queen Elizabeth National Park with lots of game viewing en-route, including tree-climbing lions in Ishasha sector. Relax after lunch at Mweya safari Lodge, and later go for an evening game drive to see animals like buffaloes, Lions, herds of Elephants, bush bucks, bush pigs, warthogs, Deffassa waterbucks and many more.
Day 7: Transfer to Kibale Forest National Park
Have breakfast and transfer to Kibale Forest National Park(home to 13 primate's species ) through Fort-portal, amidst the great mountains of the moon(Rwenzori mountains) offering you beautiful sceneries. Lunch er-route and proceed for chimpanzee tracking. Expect other primates too like the Mangabeys, colobus monkeys, Red-tailed monkeys, bush babies baboons and many more.
Day 8: Transfer to Murchison Falls National Park
Have breakfast and connect to Murchison falls National Park, arrive by afternoon, have lunch and drive direct to the top of the falls where the park derives its name. Here you will see the calm Nile forcing itself through a narrow gorge of 7 meters wide to fall a distance of about 150 ft down producing a thunderous roar of whitewater- incredible scenery.
Day 9: Full Day Tour Activities in Murchison Falls Park
Take a cup of tea/coffee and go for a game drive before dawn to catch up with predators and early risers. Expect animals such as jackals, Lions, Leopards, spotted hyenas, giraffe, antelope, elephant, Buffaloes, Uganda kob and many more. You will retire from the game drive for late breakfast and lunch and then in the afternoon you will go for a Boat ride on the Victoria Nile. The boat trip will take you to the bottom of the falls where you will view animals like the buffaloes, hippos, crocodiles, elephants and plenty of water birds like fish eagles and rare shoebills and many more.
Day 10: Transfer to Jinja & Visit the Source of the Nile
Wake up so early and have breakfast and then transfer to Jinja were you will arrive in time for lunch but you will have a stopover at the Zziwa Rhino Sanctuary to view some Rhinos and after you will proceed to Jinja and then visit the source of the Nile.
Day 11: Return to Kampala
Have breakfast and then drive back to Kampala and the guide will either drop you at the airport for your departure flight or at the hotel for your stay depending on your departure time.
End of the 11 Days Exploring Uganda Wildlife Tour.