Lake Kivu is one of African great lakes with huge freshwater and it is believed to be the largest lake in Rwanda and attains sixth position largest lakes in Africa. It is located in Albertine rift valley the western side of great Africa rift valley.it dominates both boarders of Rwanda and democratic republic of Congo .The shores Lake Kivu forms a number of inlets, peninsulas and a number of water falls. The main outlet is river Ruzizi that flows south towards Lake Tanganyika which is second largest freshwater lake in the world. The shores of the lake is surrounded by a number of mountains in the north and western side of the lake.it is a well highly densely populated with a number of towns like Gisenyi, cyangure, kibuye in Rwanda and kabare, Sake, Bukavu and Goma in DRC.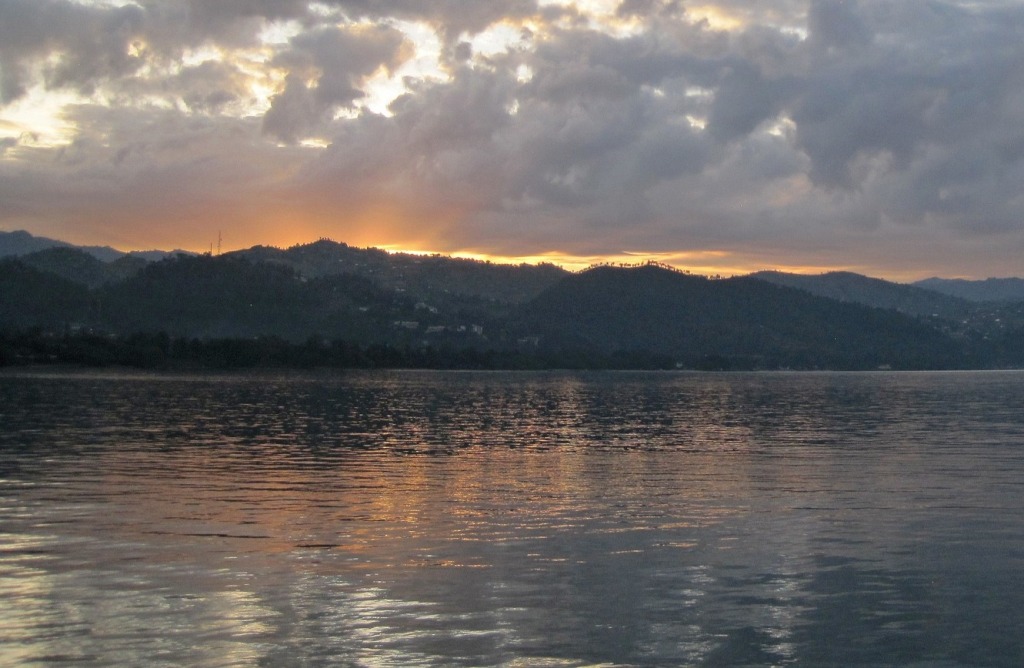 Lake Kivu covers a total surface area of 2700 km2 that is shared by Rwanda and democratic republic of Congo and stands at a height of 1460 metres above the see level there when you see it from a distance; one may think it's also part of the sky.
Lake kivu is therefore an extra ordinary beautiful lake with vast inland sea that is enclosed by the steep green hills and along the shores are three town resorts of kibuye, Gisenyi and Cyangugu that are connected to different national parks like Gisenyi town which is so close Ruhengeri a gorilla tracking centre in volcano national park and cyangugu that is very close to Nyungwe forest national park.
What to do?
Lake kivu has got stimulating activities that one will long remember after leaving Rwanda behind .where as you planning a safari in Rwanda, I would wish you not to miss out a visit to lake kivu during or even after your safari.it is one of the best places to chill out and relax may be after gorilla tracking, golden monkey trekking chimpanzee trekking in Nyungwe forest, hiking or biking the Congo trails and nature walks. It's not only the perfect place where one can chill out and relax and the fresh waters provides a chance for swimming because the waters are free from hippos ,crocodiles or any diseases like bilharzia. The temperatures of the water are very perfect and cool for one to dive in and get refreshed. The swimming points can be got from the major towns of kibuye, Gisenyi and cyangugu. It has also got nice beaches along the shore with very clean sand where one can relax in a mild sun after swimming.
Relaxation
Lake Kivu is the best place instead of doing the relax, reading books, you can as well enjoy the tropical sunrise along the shores of the lake, the splendid views around the lake like mountains, hills, the islands, watch out the fishing boats in the lake, enjoy the light breeze and the smell of the freshwaters while relaxing which make you have a memorable end about the Rwanda safaris.
Lake Kivu has got the perfect location from all over the parts of Rwanda, Congo. While in Lake Kivu one may enjoy long day hikes, nature walks and boat rides. This includes venturing out on Congo trial that have just been developed where one can do the hikes and bike rides along to have a long day experience.one may as well carry out cultural visit and enjoy different cultural interactions which is an enriching experience to one who pays a visit. Since the lake is also surrounded with hills and mountains where one may enjoy mountain climbing and coast down back on the ride which an interesting game that I would wish one to experience while in lake kivu.
Boat Cruise
During your visit to Lake Kivu include a boat ride on Lake that will take you to Nyamirundi Island where you may have a chance to learn to see and take apart in processing coffee seeds into drinking coffee. Washing of the coffee bean is done at Gashashi washing station, keep watching how coffee seeds are dried up or roasted and then finally grounded and you have a taste of the finished product.be free to buy some and carry them to your home, as you consume his coffee, you will be pleasantly reminded of Rwanda safari experience.
Wind surfing and water sporting
Wind surfing and water sporting is one of the interesting attraction, call it an activity that one may enjoy while at Lake Kivu. The waters of lake kivu have got waves that supports wind surfing, speedy boat riding, kayaking sport fishing and wind surfing and kayaking equipment's can be hired from Gisenyi grounds.
Visit Imbabazi orphanage
Visit to the Imbabazi orphanage that is also located near Lake Kivu. This orphanage was established by late Rosamond Carr to take care of the orphans that were being left by their parent who were killed during the Genocide. Rosamond Carr had lived in Rwanda even before the genocide and he da a close relationship with Dian fossey who spear headed the campaign against wildlife conservation mainly the gorillas that were facing poaching. During the genocide, the orphanages were being moved from one place to another because of insecurity problem however after the genocide in 1994, it was permanently established in Gisenyi as a home for orphans.it is a well-constructed home with beautiful gardens, classic restaurants with standard food and it provides a great view of Virunga volcanoes from the back ground.
Lake Kivu has got the best accommodation both lodges and hotels that range from luxury, mid-range and budget, therefore you have everything available for you depending on the choice of accommodation unit that you would prefer to spend your nights.