Our 5 Days Best of Kenya Wildlife Tour will lead you through Kenyan destination, exposing you to fun full activities and creating memories that will last a life time! Moving through to Aberdare national conservation area, explore Lake Naivasha, and Masai Mara national game reserve, the tour highlights game viewing, the great wild beast migration and scenic views of Kenya. Contact us to book this tour.
Itinerary overview
Day 1: Arrival in Nairobi city
Day 2: Transfer to Aberdares national park
Day 3: Aberdares to Lake Naivasha
Day 4: Aberdares to Masai –Mara
Day 5: Mara game drive and transfer to Nairobi.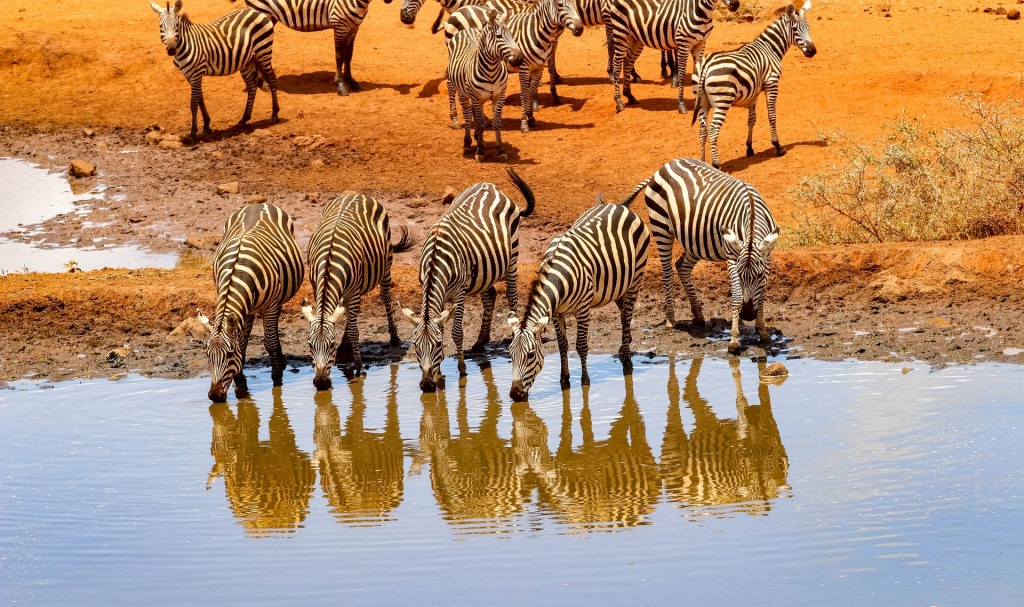 Detailed itinerary
Day 1: Arrival in Nairobi city
Upon arrival, you will be welcomed by our company representative who will meet and greet depending on the time you arrive, you may have a chance to explore the hidden gym of the Nairobi city before we can check in the hotel that has been booked for your stay overnight.
Luxury: Nairobi Serena hotel
Mid-range: Jacaranda hotel
Beast budget: Airport hotel
Meal plan: Dinner
Day 2: Transfer to Aberdares National Park
Following breakfast, we will head out for the Aberdares region, driving through the rich farming areas, arriving in for a hot lunch, and check in, later we will drive to the park area for an afternoon game drive, taking in then scenic views of the eastern rift valley area, look out for animal's like elephant's buffaloes in the thick rain forest, water bucks on a lucky day you may be chanced to see the bongo, a very rare Kenyan antelope, and big populations of black Rhinos. Returning to the lodge for dinner ad stay overnight at
Luxury: Aberdare country lodge
Mid-range: The ark tree lodge
Best budget: Aberdare fishing lodge
Meal plan: breakfast, lunch, dinner
Day 3: Aberdare to Lake Naivasha
Check out of the hotel after breakfast and transfer to Lake Naivasha it is one of the fresh water lakes of Kenya north of the Nairobi city, you will arrive on game drive viewing the fringed papyrus swampy areas and large schools of hippos flocking around the lake, we will pass through the Thomson fall arriving for lunch and an optional boat cruise in the afternoon or relaxation around the lodge area.
Luxury: Great rift valley lodge
Mid-range: Naivasha Kongoni lodge
Best budget: Lake Naivasha resort
Meal plan: breakfast, lunch, dinner
Day 4: Transfer to Masai Mara
After breakfast we will transfer to Masai Mara national park, a popular Kenyan destination known for the great wild beast migration arriving in time for lunch and afternoon game drive in search of the big five of the park, including the African buffaloes, elephants, Rhino, lions leopards, the stunning landscapes of the savannah are extremely amazing.
Accommodation
Luxury – Mara Serena Lodge / Mara Tree tops
Mid-Range – Mara Chui resort
Best Budget – Mara leisure Camp
Meal Plan – Lunch and Dinner
Day 3 – Departure to Nairobi
Following an early morning breakfast, we will have a game drive through the park area and then you will be prepared to head back to the famous city, dropping within the city center or a drive back to the Airport  for departure.
End of the 5 Days Best of Kenya Wildlife Tour.
The 5 Days Best of Kenya Wildlife Tour includes;
Meals as specified in the Itinerary on Full Board(FB)
Accommodation as indicated in the itinerary
Water in the vehicle for overland sectors
All ground transportation and transfer as indicated
English speaking guide
All applicable tax, administration and parking fee
Exclusive;
All passport and visa fee
All health vaccination and medication
International flight and associated airport departure tax
Meals not specified (including lunch & other meal stop between the properties on overland sector)
Drinks not stimulated in the itinerary
Items of personal nature
Laundry | gratitude for guide | hotel | staff etc.
Any extra additional activities not mentioned in the itinerary
Changes incurred as a result of delays or cancellations and all other inconveniences beyond our control.