Akagera National Park is located in the north east of Rwanda along the border with Tanzania. Although founded in 1934, much of the park was re-allocated as farms and in 1997 the park was reduced in size from more than 2,500 sq km (nearly 10% of the surface area of Rwanda) to its current extent of 1,122 sq km. Since 2010, a joint venture with African Parks has seen Akagera return to its former glories.
It is named after the Akagera River that flows along its eastern boundary and feeds into a labyrinth of lakes of which the largest is Lake Ihema. The forest fringed lakes, papyrus swamps, savannah plains and rolling highlands combine to make Akagera amongst the most scenic of reserves anywhere in Africa. It has exceptional levels of biodiversity and forms the largest protected wetland in central Africa.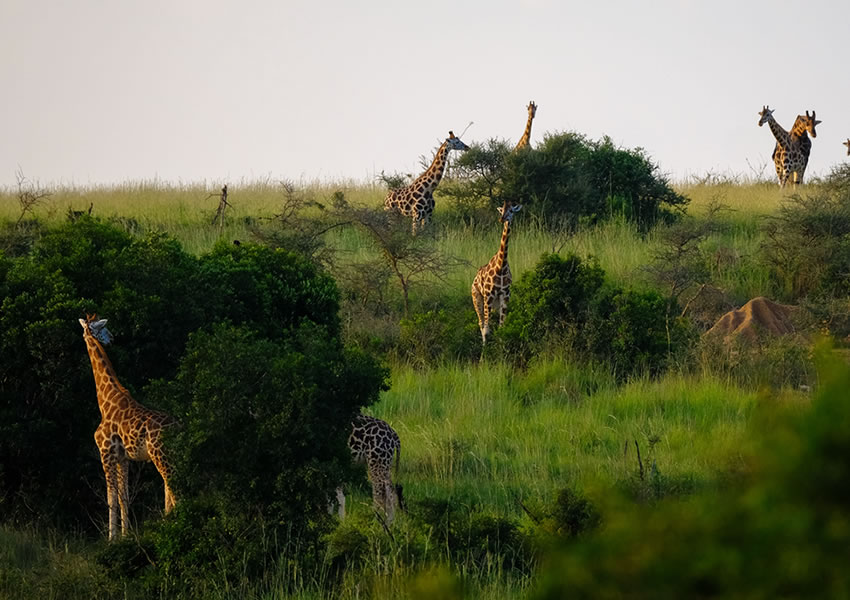 Akagera National Park combines well with Nyungwe and the Volcanoes National Park to offer a great safari element as it is home to many large plains game species as well as species restricted to the papyrus swamps such as the Sitatunga and the sought-after Shoebill Stork. Notable plains game include elephant, buffalo, topi, zebra, waterbuck, roan antelope and eland. Other antelope are duiker, oribi, bohor reedbuck, klipspringer, bushbuck and impala. Of the primates, olive baboons, vervets and the secretive blue monkey are seen during the day, with bushbabies often seen on night drives.
Of the larger predators leopard, hyena, side-striped jackal and lion, which was re-introduced last year are present. Plans are underway for the reintroduction of the black rhino too, and this will restore Akagera's 'Big 5' status
Due to its wide variety of habitats, Akagera is an important ornithological site with nearly 500 bird species. The rare and elusive shoebill shares the papyrus with other rarities such as the exquisite papyrus gonolek and countless other water birds that inhabit the wetlands in large numbers.
Things to do in Akagera National Park.
Game Drives
Akagera National Park management has vehicles available to hire for game drives, that come with their own driver and guide, and a choice of half day or full day drives. However, it is also possible in Akagera to self-drive your own vehicle round the park. Guides are available to accompany you on your drive. The guides can direct you to areas where wildlife is most abundant and guide you to stunning scenic spots that you may otherwise miss.
There is a two-tier guiding system in the park with 10 park-employed guides and 15 community freelance guides. As a park visitor, and subject to availability, you may choose to take a park-employed guide who has guiding experience ranging from 2 to 12 years in Akagera National Park, and has undertaken training in content, interpretive guiding and first aid in the past 2 years. Or, you can choose one of the Community Freelance Guides, who are enthusiastic, fast learners. They have completed an in-house training and assessment programme. Both guides are dedicated to providing an authentic experience and support the success of the park. By choosing a freelance guide you are strengthening the relationship between the park and the local community, by stimulating economic development and allowing communities members living alongside the park to benefit from the tourism growth in Akagera.
Boat Trips and Fishing at Akagera National Park
If you are looking for a variation on the usual safari experience, a boat trip on Lake Ihema will not disappoint. Drift along the forest-fringed lake edge, past huddles of hippo and basking crocodiles. For the serious birder a boat trip is a must. Trips are scheduled 4 times per day at 7.30am, 9am, 3.30pm and 5pm. Non-scheduled, private, trips can also be arranged at other times.
Lake Shakani is the site of sports fishing in the park; spend a relaxing day fishing off the lake shore and then cook your catch over an open fire at the campsite.
Bird Watching
Birding safaris are popular amongst regular visitors and the immense variety and abundance of species will not fail to impress. From the vast concentrations of waterfowl to the myriad of savanna species, there is never a dull moment, with more than 500 species recorded in Akagera. Serious birders can seek out several endemic species as well as rare gems such as the near threatened papyrus gonolek (Laniarius mufumbiri), which is restricted to papyrus swamps, the localised red-faced barbet (Lybius bidentatus) and the sought after swamp flycatcher (Muscicapa boehmi).