Visit Rwanda with Belle Africa Tours and have a memorable experience on this 6 Days Rwanda Cultural Tour Experience. This Rwanda safari tour will take you to the best tourist destinations in Rwanda where you will have a unique cultural experience. Contact us today to book this tour.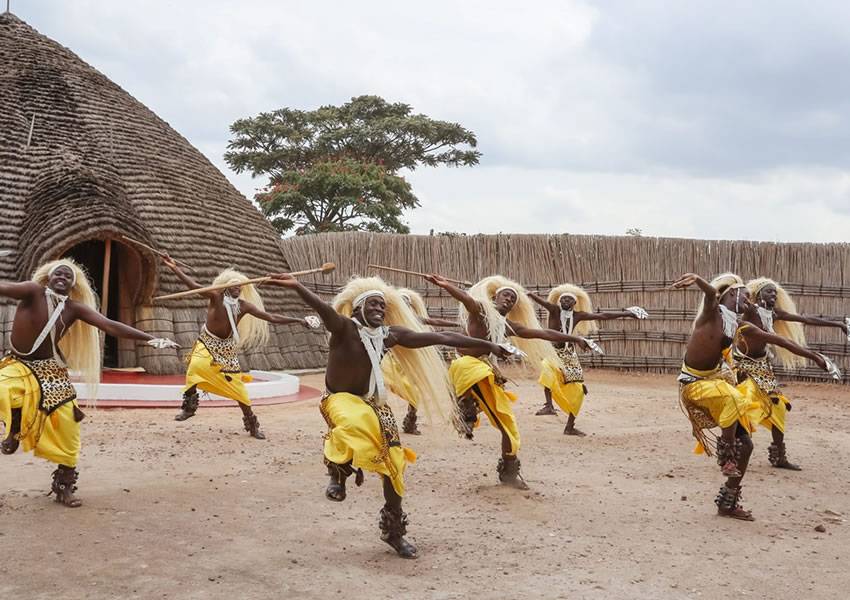 Day 1: Arrival in Kigali
6 Days Cultural Tour in Rwanda Kigali City Adventures.  You will arrive in Kigali and be met by the safari guide, then transfer to your hotel for dinner and overnight.
Day 2: Drive to Ruhengeri
Following breakfast, you will drive to Ruhengeri in the north, the Land of a Thousand Hills. You will have a tour around the lively and friendly town centre; visit the clay fields and see a group of brick makers. You will then go to your hotel of accommodation and have a A traditional dinner and also be entertained a local dance group, have a chance to see the cultural dances.
Day 3: Visit to the Lakes.
Wake up and have breakfast, then visit the beautiful region of the twin Lakes Burera and Ruhondo. You will be introduced to traditional sustainable farming methods with African vegetables and fruits, visit the local fishermen and also see the fishing competition with children from the adjacent villages. You will then have a launch cruise in one of the traditional canoes and have a visit to the convent Foyer de Charit, visit the local witch doctors and the snake man.
Day 4: Drive to Lake Kivu and visit tea plantations.
volcano-rwanda-ruhengereDrive to Gisenyi at the northern shores of Lake Kivu, visit the tea plantations, do some shopping at a farmer's market then, have a tour of the city which repeatedly gained tragic publicity in the past decade because of enormous refugee camps, hunger, epidemics and, recently, a devastating volcanic eruption that reminded of the fate of the historic town of Pompeii and then drive to Kigali.
Day 5: Visit to the Palace.
Drive to Nyanza, the historical seat of the ancient Rwandan kings and visit the Palace, then drive to Butare, Rwanda's cultural centre and visit the National Museum. Drive to Kigali and tour the city. In the early evening, you will get to see performances done by the members of a Batwa Pottery Project with an introduction to the life of the first Rwandans, their art of pottery as well as singing, drumming and dancing
Day 6: Visit the genocide memorial sites or markets, Return home
Wake up in the morning and have breakfast, then drive to Kigali, first have a look at the genocide memorial sites or lively markets in Kigali's suburbs en route and then depart back home.
End of the 6 Days Rwanda Cultural Tour Experience.